House dust mites as potential carriers for IgE sensitization to bacterial antigens
Palabras clave:
Atopic dermatitis, House dust mites, Bacterial antigens
Resumen
Background: IgE-reactivity to antigens from gram-positive and negative bacteria is common in patients suffering from respiratory and skin manifestations of allergy, but the routes and mechanisms of sensitisation are not fully understood. The analysis of the genome, transcriptome and microbiome of house dust mites has shown that Staphylococcus aureus and Escherichia coli species are abundant bacteria within the house dust mites microbiome. Therefore, our aim was to investigate if house dust mites are carriers of bacterial antigens leading to IgE sensitisation in patients suffering from atopic dermatitis.
Methods: Plasma samples from atopic dermatitis patients (n = 179) were analysed for IgE-reactivity to a comprehensive panel of micro-arrayed house dust mites allergen molecules and to Staphylococcus aureus and Escherichia coli by IgE immunoblotting. Antibodies specific for Staphylococcus aureus and Escherichia coli antigens were tested for reactivity to nitrocellulose-blotted extract from purified house dust mites bodies and the IgE-reactive antigens were detected by IgE-immunoblot inhibition experiments. IgE antibodies directed to bacterial antigens in house dust mites were quantified by IgE ImmunoCAPTM inhibition experiments.
Results: IgE-reactivity to bacterial antigens was significantly more frequent in atopic dermatitis patients sensitised to house dust mites than in atopic dermatitis patients without house dust mites sensitisation. Staphylococcus aureus and Escherichia coli antigens were detected in immune-blotted house dust mites extract and the presence of IgE-reactive antigens in house dust mites was demonstrated by qualitative and quantitative IgE inhibition experiments.
Conclusions: House dust mites may serve as carriers of bacteria responsible for the induction of IgE sensitisation to microbial antigens.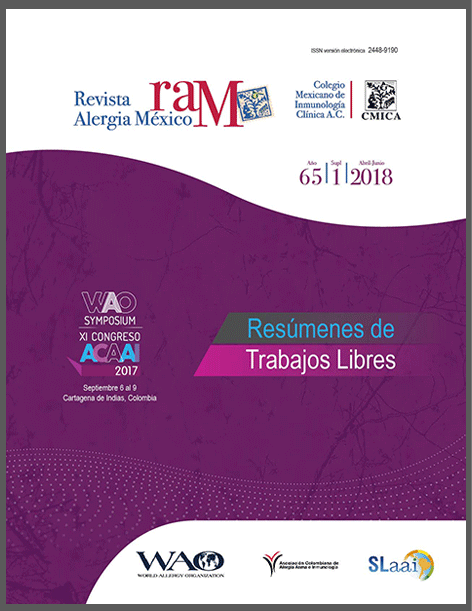 Descargas
Licencia
El contenido de los artículos es responsabilidad exclusiva de los autores y no necesariamente refleja el punto de vista del Consejo Editorial de

Revista Alergia México

ni del Colegio, sin embargo, los derechos autorales de los trabajos científicos son propiedad de la revista, por lo que para cualquier tipo de reproducción, total o parcial, requerirá notificación a la misma y el reconocimiento de los créditos.