Rhinitis symptoms, mattress covers and bedroom environmental control: a multicentred double blind randomized versus placebo-controlled trial
Palabras clave:
Allergic rhinitis, Dust mite, Anti-dust mites mattress covers
Resumen
Background: Despite considerable socioeconomic burden, allergic rhinitis is often underdiagnosed. Even under treatment, patients often remain symptomatic. In a stepwise approach to allergy treatment, the first step is to reduce allergen exposure. In the case of dust mite allergy, despite inconsistent results and controversial clinical effects, mattress covers reduce dust mite exposure.
Objective: The goal of this study was to bring objective data on the pertinence of anti-dust mites mattress covers use for dust-mites sensitized patients suffering from allergic rhinitis.
Methods: Thirty patients allergic to dust mite were included in a multicentered double blind randomized versus placebo study. The active group received and installed a dust mite impermeable cotton mattress cover, while the placebo group received a non-impermeable cotton mattress cover. The study consisted on: patients recruitment and clinical evaluation during a visit with an allergist, patients inclusion and covers distribution, covers installation followed by 12 weeks of uninterrupted use and finally a second visit with an allergist and clinical evaluation. During the study, patients filled the mini Rhinoconjunctivitis Quality of Life Questionnaire (miniRQLQ) and the eviction measures follow up questionnaire at beginning and end of the study. Patients also recorded daily their medication use for the duration of the study.
Results: The miniRQLQ was completed by 25 patients (12 to 68 years old) and data from 22 patients were analyzed (12 in the placebo group and 10 in the active group). After 12 weeks, nine out of 10 patients in the active group had a significant improvement of their rhinitis symptoms (miniRQLQ score delta > 0.7) versus only five out of 12 in the placebo group. A significant difference in symptoms improvement (p < 0.005) was found between the active group (1.5 ± 0.88) and the placebo group (0.23 ± 1.19), most notably on nose symptoms (2.3 ± 1.44 versus 0.25 ± 1.46). No statistical differences were found between the placebo group and the active group for medication use. Compliance to allergen eviction measures was found to be quite high at 86.5 ± 11.5 % in the placebo group and 81.9 ± 5.5 % in the active group during the study.
Conclusion: Symptoms and quality of life improvement in dust mite allergic patients suffering from allergic rhinitis were obtained after continuous use of an anti-dust mite mattress cover in conjunction with other bedroom allergen eviction measures, but less when those interventions were coupled to a placebo cover.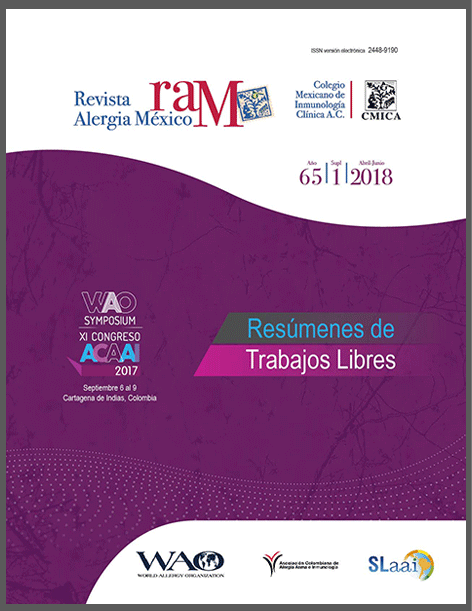 Descargas
Licencia
El contenido de los artículos es responsabilidad exclusiva de los autores y no necesariamente refleja el punto de vista del Consejo Editorial de

Revista Alergia México

ni del Colegio, sin embargo, los derechos autorales de los trabajos científicos son propiedad de la revista, por lo que para cualquier tipo de reproducción, total o parcial, requerirá notificación a la misma y el reconocimiento de los créditos.