The sigma-and omega-class members of the glutathione-S-transferase family from ascaris are IgE binding components with marked differences in the IgG1 and IgG4 response
Palabras clave:
Gluthation-S-transferases, Ascaris suum
Resumen
Background: The family of gluthation-S-transferases possesses several isoforms, one of its members, Asc s 13, is allergenic, but other molecules of this repertoire may have different immunological properties. Different omega-class of gluthatio-S-transferases has been reported as anti-inflammatory molecules.
Objective: To evaluate the antibody response to a new member of the gluthation-S-transferases family from Ascaris suum.
Methods: Recombinant gluthatio-S-transferases omega (rGSTO) and gluthatio-S-transferases sigma or Asc s 13 (rGSTA) from Ascaris suum were obtained in Escherichia coli. Specific IgE, IgG4 and IgG1 levels were determined by ELISA in 183 patients from a rural area of Colombia where ascariasis is endemic. A phylogenetic tree was built with published helminth gluthatio-S-transferases sequences. IgG reactivity to rGSTO and rGSTA was evaluated by ELISA using a polyclonal antibody (pAb) obtained from rGSTA-immunized mice.
Results: These proteins share 20 %/39 % of identity/similarity; low surface amino-acid conservation was also observed. These Ascaris suum-gluthatio-S-transferases clustered in different clades, rGSTO was more similar to other omega-gluthatio-S-transferases and rGSTA to other sigma-class. Anti-rGSTA pAb recognized the immunogen in a dilution-dependent manner, but not the rGSTO. Human IgE recognized both, rGSTA (median OD 405 = 0.127; IQR = 0.111-0.150) and rGSTO (0.122; IQR = 0.109-0.157), with no difference (p = 0.321). Sensitization rates were similar (rGSTA: 32.8 % and rGSTO: 30.6 %, p = 0.65). Human-IgG4 against rGSTO and rGSTA was found in 73.2 % and 41.0 % (p < 0.01). Median anti-GSTO IgG4 (0.174; IQR = 0.14-0.25) was significantly higher than to rGSTA (0.135; IQR = 0.115–0.171). IgG1 reactivity to rGSTA and rGSTO was 84.2 and 95.6 % (p < 0.01), respectively. Median IgG1 levels were significantly higher for rGSTO (0.332; IQR = 0.234-0.466) than to rGSTA (0.176; IQR = 0.140-0.259).
Conclusions: rGSTO is also an IgE binding component of ascaris. No cross-reactivity with rGSTA in immunized mice. Differences in IgG1 and IgG4 responses suggest these isoforms induce different immune response profiles.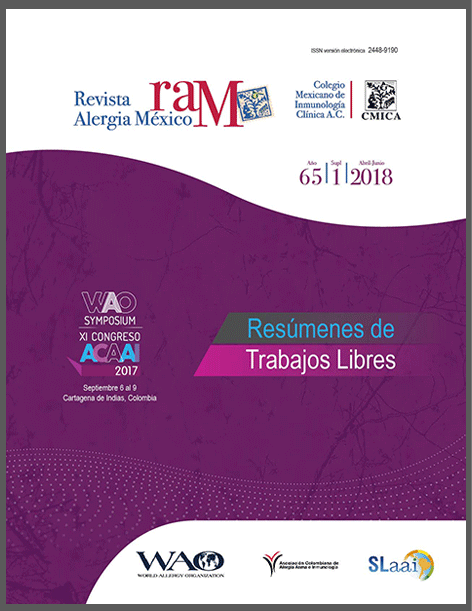 Descargas
Licencia
El contenido de los artículos es responsabilidad exclusiva de los autores y no necesariamente refleja el punto de vista del Consejo Editorial de

Revista Alergia México

ni del Colegio, sin embargo, los derechos autorales de los trabajos científicos son propiedad de la revista, por lo que para cualquier tipo de reproducción, total o parcial, requerirá notificación a la misma y el reconocimiento de los créditos.